MANKIND IS DEAD.
BLOOD IS FUEL.
HELL IS FULL.


ULTRAKILL is a retro-style first-person shooter developed by Arsi "Hakita" Patala and published by New Blood Interactive. You play as V1, a combat machine fueled by blood who has ventured into the depths of Hell after the extinction of humanity. Hell abounds with demons and tormented souls, sources of blood that you must rend apart in order to refuel yourself and survive.
ULTRAKILL's gameplay combines features from lightning-fast first person shooters and style-focused action games like Devil May Cry. The game places emphasis on movement, dodging attacks, and efficient gunplay in its arena-style levels. In addition, the player's health can only be restored by showering in the blood of enemies, requiring the player to adopt an aggressive playstyle that regularly places them in close combat with their opponents.
The game's prologue and first act were released in early access on September 3, 2020, and a free demo is available on Steam. You can find ways to help the wiki out here. Please remember that this wiki is unofficial, and we are a small community. If you are looking for more information related to the game, you should join http://discord.gg/newblood and head to #ultrakill. There are plenty of people there who love the game and will answer any questions you ask.

╔
Wiki Content
╠ Weapons
╠ Enemies
╠ Style
╠ Levels
╠ Terminal
╠ Update History (2nd)
╚ Music
╔ Other Links

The Malicious Face's corpse can be smashed apart if you ground slam on it. Additionally, if you slide onto the corpse you can launch yourself into the air.
Now in early access!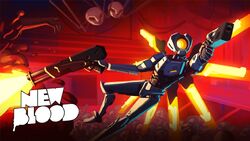 Official Socials
Wiki Status
The ULTRAKILL Wiki was created/founded on
November 12, 2020.

-

Our active Robots (A.K.A Editors) have made
3,114 edits on 96 articles
and have uploaded 288 files
to the wiki!